Details of how Caesarstone surfaces are cut during fabrication.
Caesarstone surfaces are available as large slabs, approximately 3 metres by 1.44 metres and are usually 20mm or 30mm thick, exactly like a slab of marble or granite. A fabricator or stonemason will cut this slab into the various parts to fit within your kitchen. This work can be arranged via your architect, interior designer, kitchen and bathroom studio or directly with a stone fabricator.
This diagram – 'the anatomy of a worktop' – is included to explain how the slab is cut, as well as giving you an idea of how much material you might need for your own design.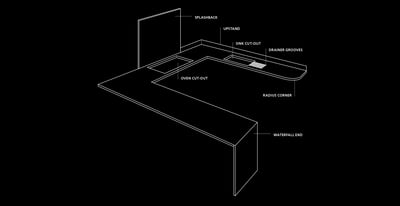 This example shows how a single slab of Caesarstone might be cut for a compact U-shaped kitchen, showing a cut-out for an under-mount sink, whilst allowing for a 100mm upstand around the entire length of the work surface and a 10mm overhang.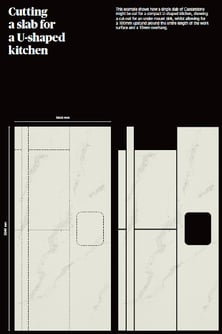 You may already have your preferred Caesarstone samples but if not, these can be requested by visiting info.caesarstone.co.uk/request-a-sample or by emailing info@caesarstone.co.uk.